Spring & Summer Essential Oil Blends (my favorite recipes)
As we head into the warmer months I look forward to longer days and the fresh scents of summer. Now is the perfect time to put away those winter fragrances, and replace them with beautiful uplifting spring and summer essential oil blends.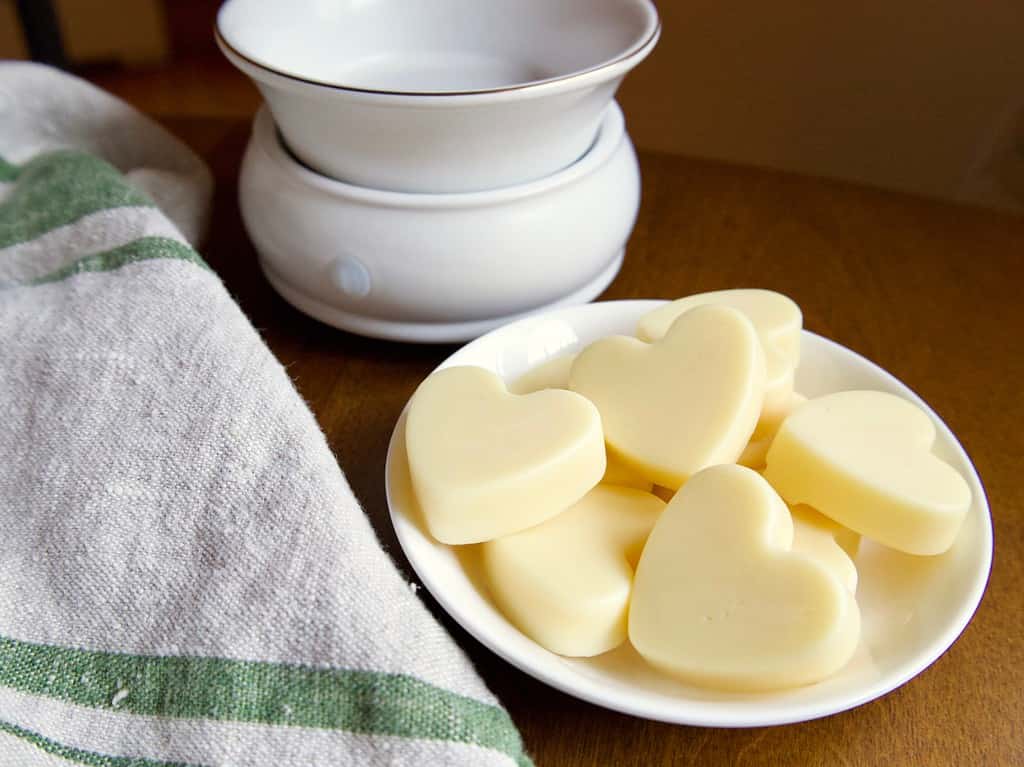 I think out of all my senses, my sense of smell is by far the strongest, which is why I love working with essential oils. And using spring & summer essential oil blends quickly brings to mind long sunny days, and the fun and lively summer season.
Now is the perfect time of year to put away those wintery, heavy, woodsy essential oils, like pine needle, and douglas fir for more sunny scents like citrus scents, ocean breeze, and floral essential oils.
This article contains some affiliate links for your convenience. You can read the full disclosure policy.
Sense Of Smell – Whose Is The Strongest?
It was once believed that our sense of smell was very much less than that of animals and that we could only distinguish roughly 10,000 different odors. However, a 2014 study proved this belief wrong, showing we can distinguish at least 1 trillion different odors. That is far more than once previously thought!
It was also believed that dogs have one of the best senses of smell but this too has been proven false.
A study that came out of the University of Tokyo found that elephants have the strongest sense of smell. Five times stronger than humans and two times stronger than dogs.
Loss of Smell And Health Problems
Having a strong sense of smell is important for many reasons. First and foremost, it's a way to protect us from things that may cause us harm, such as a burning house fire, chemical exposure, or even food that has gone bad.
A loss of smell could indicate a variety of health problems, most common allergies, or a viral infection. But it could also indicate something more serious like a neurodegenerative brain disease, like Parkinson's or Alzheimer's.
You know Doug, my guy who has Parkinson's disease, lost his sense of smell years before being diagnosed with Parkinson's. His sense of smell was not completely gone but it is greatly reduced and, up until his diagnosis, we had no idea this was one of the hallmark signs of the disease.
Our sense of smell is greatly connected to memory and emotions. Studies show that those who lose their sense of smell can often feel disconnected from the world, and may experience feelings of anxiety or depression.
The Quality Of Summer Essential Oil Blends
When it comes to essential oils, quality definitely matters. Make sure to use pure essential oils because the last thing you want to do is use, and smell, an oil that is toxic and loaded with unhealthy compounds, or one that has gone bad altogether.
I am a stickler when it comes to the oils I use and their quality. Over the years I have done quite a bit of research, and I am continually looking for great quality essential oils to use throughout my home.
Whether I am using oils in homemade cleaners, essential oil diffuser recipes, or reed diffusers, I make sure to use the best quality oils I can find.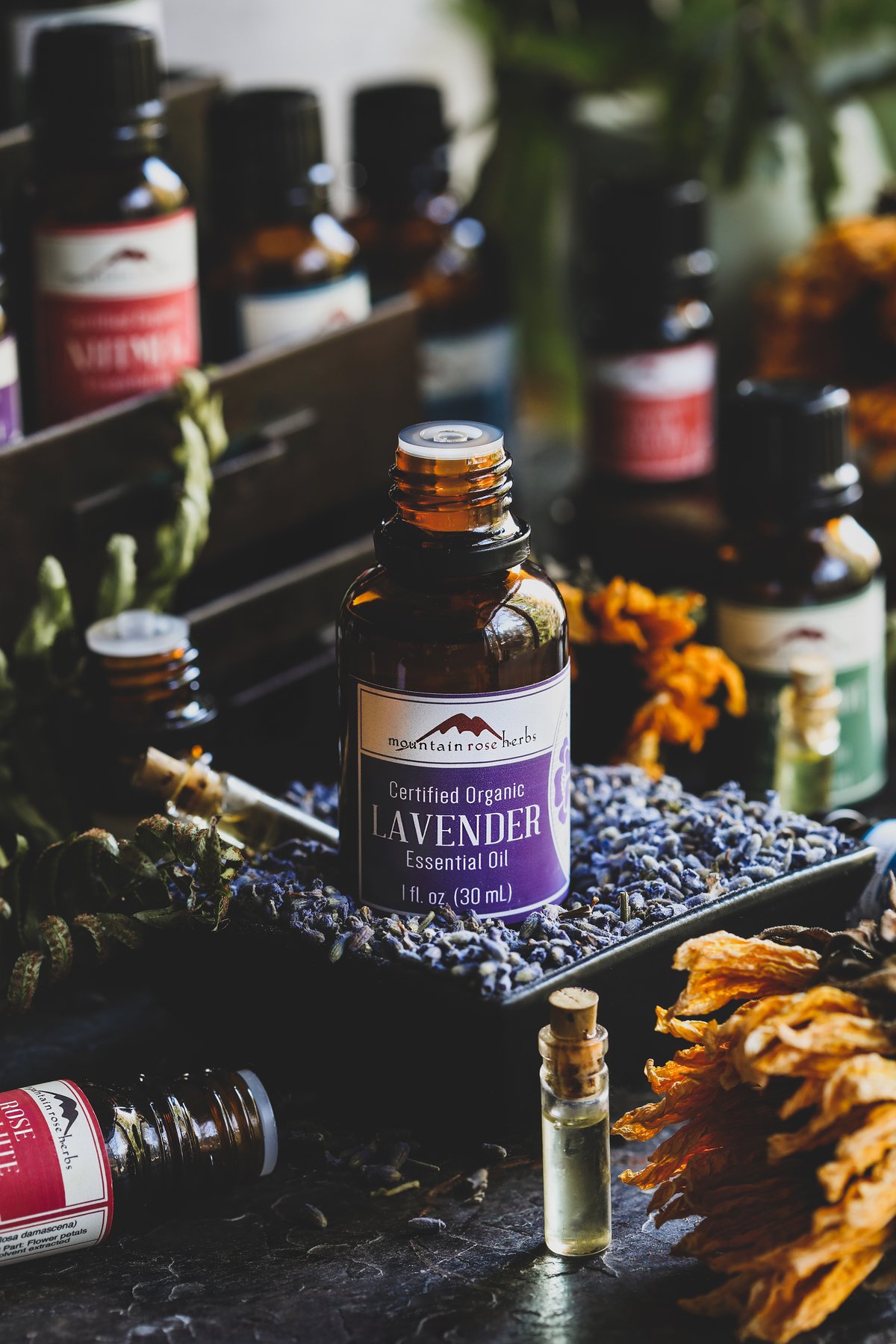 My Favorite Oils
HERE are the essential oils I use. I am partial to this company because they responsibly source all of their oils, and the majority of their essential oils are organic. Plus their customer service is fantastic.
Everyone has their own personal preferences when it comes to using oils but here are some of my favorites for the upcoming spring and summer months:
Carrier Oils – When Do I Need Them?
Depending on how you use your summer essential oil blends, you may need a carrier oil. I use to get confused about carrier oils and made it more confusing than it really needed to be but basically, a carrier oil does just that, it carries the essential oil so that you can use your blends over a greater surface area.
Plus, and this is important, many essential oils are not safe to apply directly onto your skin. They may cause a rash, itching, or worse. And for some people, certain oils can affect their immune system, causing them to have an allergic reaction.
A few drops of an essential oil mixed in with a carrier oil may be a great way to create a new blend but it is also good for your health.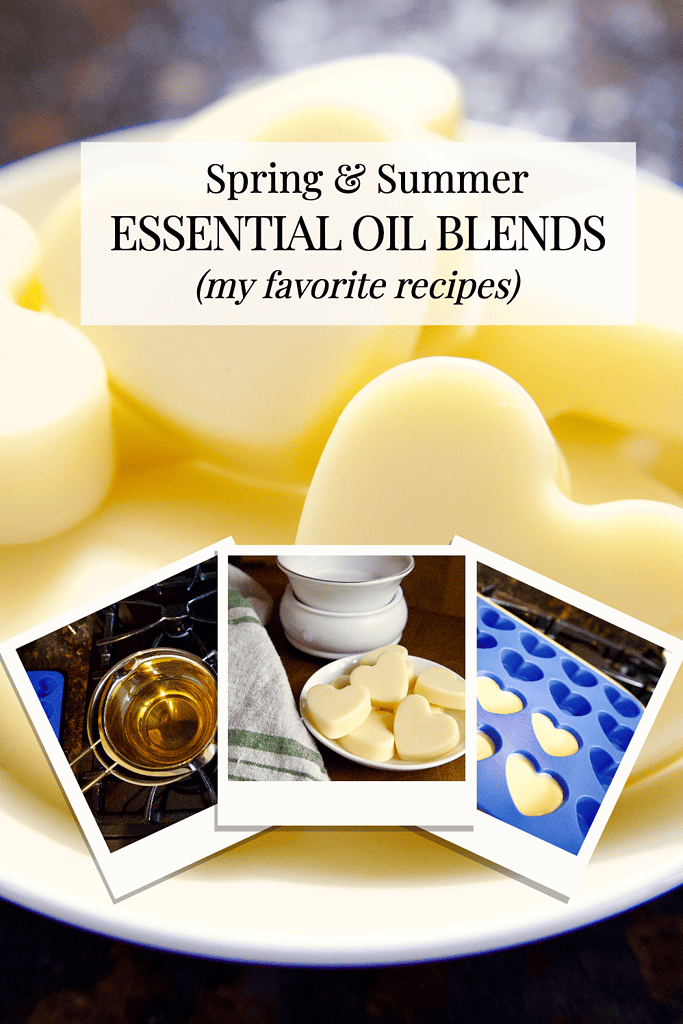 So always do your homework to find out which oils are safe to apply directly, and which need a carrier oil.
There are many types of carrier oils to choose from, depending on how you use your essential oils. Here are some of my favorites:
Coconut oil is an oil that stays solid at room temperature. It also contains some great antibacterial properties so it is great for salves and lotions but due to its solidifying nature, it is not great for oils used in roller bottles.
However, fractionated coconut oil remains liquid and is light and odorless, so this would be a great option for roller bottle products.
Jojoba oil is a light, mildly scented oil that does not stain clothes as readily as other heavier oils. So this oil would be a good choice for body lotions. It is also great for face and hair products.
Rosehip seed oil is considered a dry oil because it gets absorbed into the skin readily and leaves no greasy residue. It is an oil filled with fatty acids and antioxidants, so it is great as a moisturizer and in antiaging skin care products.
Almond oil is a medium-weight oil and scent. It contains a high amount of vitamin E so it absorbs well and is considered a great moisturizer. Almond oil is also a good choice for haircare products.
Spring & Summer Essential Oil Blends
So now let's get into the fun stuff, some of my favorite essential oil recipes. No matter the weather, sunny days, or rainy days, searching for the perfect blend is one of my favorite things to do.
A great way to start your day is to pick out one of your favorite summer diffuser blends to gently drift through your home. I love it when people come into my house and comment on the beautiful-smelling blend I have going on. That tells me it's the perfect match for the day!
Here are some great summer essential oil blends for your diffuser, to make a part of your warm summer days.
Refreshing Summer Citrus
3 drop lemon
3 drop orange
2 drop rosemary
Breath of Fresh Air
6 drop peppermint OR 6 drop spearmint
4 drop eucalyptus
2 drop lavender
2 drops bergamot
Tranquil Earth & Rain
4 drop basil
3 drop sandalwood
3 drop vanilla
Easy Summer Breeze
4 drop ginger
3 drops grapefruit
2 drop ylang ylang
Lazy Summer Days
4 drop lime
4 drops tangerine
2 drop patchouli
Gentle Spring Rain
6 drop lemon
4 drop vetiver
2 drop bergamot
Fresh Summer Clean
3 drop lemon
3drop lime
2 drop grapefruit
2 drop sweet orange
Spring Allergy Ease
4 drop lavender
3 drop peppermint
2 drop lemongrass
2 drop eucalyptus
FREE Summer Essential Oil Blend Recipes
Feel free to grab this printable if you want to have all of these blend recipes in one place, and refer to them in the future.
You can also use these summer diffuser recipes to make a reed or car diffuser, as all are great blends and a wonderful natural way to freshen up your home or automobile.
My favorite summer blends can also be used to make diffuser jewelry, or even wax melts to be used with a candle or electric burner.
The easiest way to use these blends is with a tea light essential oil burner or an electric diffuser but you can get as creative as you wish. And when you do, please let me know in the comments below. I'd love to hear how you are using the spring and summer essential oil blends!
More nourishing recipes and joyful living tips for busy caregivers
The Best Easy Vegan Gingersnap Cookie Recipe
Bible Verses For Caregivers – Encouraging Scriptures
My Minimalist Makeup Bag: 5 Essentials For Simple Beauty
New To Saunas: What To Wear In Infrared Sauna
Let's be social
If you enjoyed this post, I would love it if you give it 5 stars or comment below, and do not hesitate to share it with someone whom you think might benefit. Thank you in advance.
And if you wish, you can follow me and my life on Cape Cod, on my Instagram page @parkinsons_and_us.
VIDEO: How I Use Summer Essential Oil Blends