The Best Caregiver Gifts – From A Care Partner's Perspective
Buying gifts for your friends, family, and loved ones may not always be easy but buying gifts for a caregiver can be quite challenging. You want the gift to be meaningful but without being too personal or gimmicky. Gifts are not a necessity but if you do wish to buy a gift for a caregiver in your life, let me show you the best caregiver gifts to buy. Coming from a true care partner's perspective.
This post may contain affiliate links, which means I make a small commission at no extra cost to you. Please view Disclaimers below for full disclosure. Thank you in advance for your support. (Photo by Erica Marsland Huynh on Unsplash).
Gifts are not everything. There is so much more to the holiday season, but since it is part of the holidays let me show you the best caregiver gifts for the one who is helping in your family.
With the holidays approaching, many of us are looking to buy our loved ones that special little something to show we care. And finding an appropriate gift for a caregiver to show your appreciation can sometimes be challenging.
Being a caregiver is a wonderful opportunity to show love, compassion, and empathy toward the ones you love. I feel I have been a caregiver of sorts for most of my adult life. Primarily as a mom to my three children, the best job in the world, and now as I transition into caring for my guy with Parkinson's.
I enjoy taking care of our home, and making it feel comfortable and secure for my family. And I really enjoy caring for the ones I love, helping them manage and maneuver in this world. In many ways, it's a two-way street, because they also take great care of me.
My Top 10 Best Caregiver Gifts
Here are my top 10 best caregiver gifts to consider for the care partner in your family. All are meant to help relax and rejuvenate. As an fyi, I have used all of these products personally, otherwise I would not be recommending.
NOTE: Most, if not all, of these companies are offering discounts and sales for Black Friday and the Thanksgiving holiday weekend. Some are offering discounts into the Christmas shopping season. So please take advantage, as the sales will not be here forever!
This is a perfect gift for any caregiver, to thank them AND remind them of their health.
This gorgeous matcha powder, from Mountain Rose Herbs, is made from young green tea leaves and is strictly harvested from certified organic plantations. It has a bold color and a mildly sweet flavor, and it is a ceremonial grade Matcha, shade-grown in the Kyoto Prefecture.
Drinking Matcha green tea is one of my favorite ritual routines to do when I am feeling stressed, or just want a healthy and comforting warm drink. I enjoy the entire routine of making a matcha latte, and always feel good knowing I am putting something healthy into my body.
---
My kids gave me this Caraway cookware set when I first moved into my home on the Cape. And I can tell you I absolutely love them.
I am quite particular about, not just the ingredients I put into my body, but also the cookware I use when cooking those ingredients. I do my research to make sure I am using quality materials, and Caraway does not disappoint.
Here are just some of their fantastic features.
Oven Safe Up to 550°F
Non-Stick Ceramic, Aluminum Core, & Stainless Steel Handles
Non-Toxic Coating (Free of PTFEs)
Stovetop Agnostic (Induction, Gas, & Electric Safe)
Free of Heavy Metals
Free of PFOA, PTFE, or other PFAs
Free of lead, cadmium, or toxic metals
Caraway is having a beautiful sale right now, and they don't do it often, so if you are even slightly considering a gift like this, I say go check them out now.
---
The P.F. Candle Co. has long been a favorite company of mine for candles. This company is based in Los Angeles, and their candles are soy based, vegan, cruelty free, paraben free, and phthalate free.
I can honestly say they have some of the best smelling candles around. I'm not sure what it is, but they all smell fantastic. Never overpowering or sickly sweet. Always with a hint of masculine that makes every one of their candles perfect for any room in the house. Plus their candle burn time is like no other!
I like this company so much that, once a year, they would open their warehouse in downtown LA to the public. When I was living there, my girlfriends and I would head down to pick up slightly defective products for ridiculously cheap. We had so much fun and would make a day of it, stocking up on all of our favorite candles for the year.
---
Journaling is a very big part of my daily life. I think it is one of the healthiest habits any caregiver can have because it gets the mental stress out of your mind and onto the page.
The Leuchtturm1917 Notebook has been my go to journal for years. They are well made, durable, and come in all sorts of colors. Personally I like the dotted format but they also come in lined or plain.
You can read about journaling and how I start my mornings HERE.
I journal every morning, and sometimes in the evening as well if I am having a particularly stressful day. I use it to dump my thoughts, and I also use it as a prayer journal.
---
Finding quality chocolate is not easy but finding quality vegan chocolate is even more difficult. That is why I was so excited when I found Hu Kitchen.
Hu is a family-founded chocolate and snacking company with a focus on simple, well sourced, clean ingredients. There motto is "get back to human" hence Hu! And all of Hu's products are ethically sourced, vegan, paleo, and refined sugar-free.
OMWord there chocolate is divine and, believe me, I think I've tried every flavor! Hu makes dark and milk chocolate plus chocolate for baking. And they have also expanded to make other snack items like cookies and crackers.
Throughout Thanksgiving weekend, receive 20% off SITEWIDE with code CYBER20! Offer valid 11/23-11/27.
---
Okay, this may be a higher end caregiver gift but I tell you these have been a lifesaver for me as a busy care partner. Whoever you gift these too, I promise they will be thrilled.
Having a pair of adjustable free weight dumbbells in your home makes maintaining (or adding) muscle mass so much easier. I've owned my Bowflex dumbbells for well over ten years and they are still going strong, and I use them every single week.
This may be a costlier gift but so worth the investment. I am all about spending money on quality once, versus buying a cheaper product and having to repeat purchases over time.
Having these dumbbells on hand will allow your caregiver to put in a set or two of repetitions during any few minutes of downtime. No hassles having to run to a gym. Yet another reminder for your care partner to take care of their health too.
---
Having a yoga mat in the house is not just great for yoga classes but they are also wonderful to use for general stretching and light weight lifting. I own a couple yoga mats. I keep one in my home and one in my car.
Manduka yoga mats are considered some of the best in the industry. They are handmade, 100% latex free, made without sending any toxic emissions into the air, and they have ultra-dense cushioning to provide great support.
I love my Manduka, and the one I own is the Manduka Pro. It is the #1 mat recommended by teachers worldwide and best of all, it offers a lifetime guarantee. Very cool!
---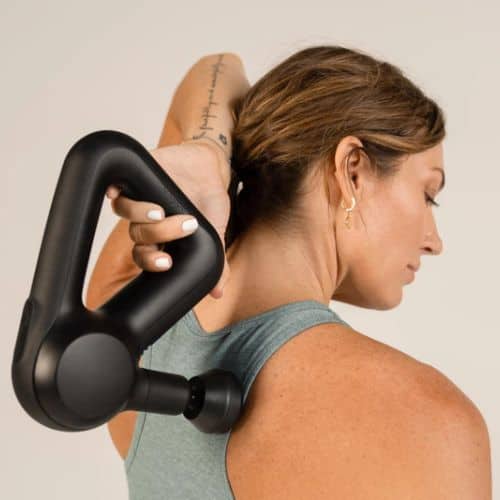 A massage percussive device is another beautiful gift to remind care partners to take good care of their health. Massage percussive devices have become popular for good reason. These things make it so easy to work out any tight or sore spots anywhere in the body.
There are so many price points for massage guns but this is the one I chose. A top of the line company, a percussive device that is quiet with 4 different percussive devices, five different speeds, and is powerful enough to hit every muscle group.
This massage gun helped me through a pretty significant knee injury, where I used it daily. And it continues to keep me healthy and injury free because I use it as part of my stretching routine.
NOTE: As with all of these gift options, holiday sales will be continuing throughout Thanksgiving and Black Friday weekend. Some into the Christmas holiday season, so take advantage of the sales.
---
For any caregiver who is interested in fitness but having a hard time getting out of the house, THIS is the perfect gift. Personal training in the comfort of your own home. I use iFit all the time, basically on the days I can't get to my gym. It is a fail safe way to get a quick workout in.
IFit can hook up to your personal piece of cardio equipment, such as a treadmill, bike, or rower, so that it will automatically adjust the speed and incline of your equipment based on what the trainer is doing. BUT it can also be used without it. Even if you want to just go on a guided hike or walk – it's fantastic.
There are a ton of different workouts and trainers to choose from, both on-demand and live studio classes. I particularly love the live event type workouts like running/walking a 5k on Thanksgiving morning, or doing the route of the New York City marathon. So fun!
---
And finally my last best caregiver gift recommendation, and one that will go hand in hand with many of the other gifts I suggested, is a membership to Audible.
For me, Audible is worth the subscription. In our busy caregiver days, we don't always have the time to sit quietly and read a book. But listening to an Audible book is much easier, when we are cooking, or cleaning, or doing any real household chore.
And who knows, maybe your loved one with chronic disease might also like to listen to a book on Audible. I know Doug, my guy with Parkinson's, and I will often listen to an Audible book when we are heading into Boston for doctor appointments. It's a nice way to connect with each other.
Caregiver Support
The majority of care partners take care of loved ones primarily because they want to make sure those family members living with chronic disease are well taken care of. For many others expense is an issue, and they cannot afford to get help in their own home much less affording a proper and safe assisted living type situation.
Providing gifts to caregivers during the holiday season is not a necessity. However letting a care partner know you are thinking of them, and thankful for all that they do is nice anytime of year.
FREE Care Partner Resource Guide
If you are looking for resources to help and support caregivers, I have put together a detailed guide providing all kinds of resources and contacts. Everything from general supportive caregiver organizations, to those dealing with financial support, legal support, and more. Check it out below.
Parkinson's and Us is a supportive community for ALL care partners, not just those dealing with Parkinson's. We are in this together.
Let's be social
I hope you found this gift guide helpful and that it gives you some ideas, from a care partners perspective. 😉
You can also follow me and my life on Cape Cod on my Instagram page @parkinsons_and_us.